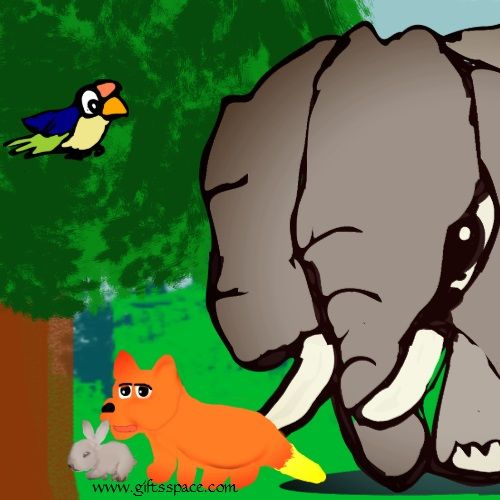 Why are you roaming here?
"Why are you here, Mr. Fox?" The bird grew suspicious of why the fox was there?
"Hey, I am a tourist, want to explore this place. It's a quiet and nice place!" the fox answered.
"Yes, I live here, and I have my other friends too. Promise me, you will not harm any of my friends," said the bird.
"Sure, your friend is mine too! I will not harm anybody. I just want to see the place, will leave soon," said the fox.
Just then, a rabbit came that way. The fox jumped upon the rabbit, but the bird said that the rabbit was his best friend. Asked the fox to leave the rabbit unharmed. But the fox said that he wanted to eat the rabbit because he was hungry.
"You can't do that, just leave him alone, or I'll call the police," said the bird.
"Police? Ha, Ha, Ha,... I don't care," said the fox.
Tweet, Tweet, Tweet, the bird called the police. Elephant police from the appeared. He was a big elephant. When the fox saw the elephant, he left the rabbit and ran away.