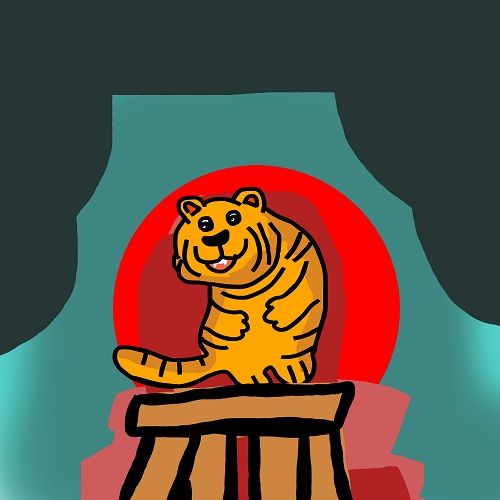 I See You There!
Hello Kids, how are you? Are you wondering what I am doing here sitting on this stool? I am a circus tiger, my show will being in a moment, stay tuned. I am completing ten years in this circus entertaining people. I go wherever the circus team takes me. The good thing about being a performer in a circus is that I could roam around the cross country seeing many lands and people who enjoy my performance. The bad thing about being in a circus is that it's a dangerous job I am doing here.
Before each show, I have to make sure that everything is ok before I perform. There are many animals here with me. Elephants, lions, and even rabbits. But here we live in harmony doing our job diligently. Actually, we never get time to interact with each other.
My day starts early in the morning practicing everything. Without practice you are going to fail, they say. My master is a strict person who trains me hard. Sometimes I feel angry and roar loud. But after my practice, I am fed with fresh meat. Frankly speaking, that's the only time I really love being in the circus. I just can't remember when it all began, I was born in this circus.
At first, it was hard to master these tricks, but now I am well versed in tricks to entertain people and get applause. Kids love my performance, but some cry when they see me. Next time when you come to see my circus, we will meet, meet you soon! Good bye.